A New Creation!
"Therefore if any man be in Christ, he is a new creature. Old things are passed away behold, all things are become new" (II Corinthians 5:17).
This is the story of a man who, after 16 years of addiction to alcohol, crystal meth (crank) and heroin, had been through some of the better treatment programs. Desperate to find freedom from addiction, he sought and found a permanent addiction cure while he was cuffed and shackled in the back seat of a sheriff car in California . The year was 1988.
Winn Freeman had tried everything. His situation was virtually hopeless. The medical community had given him a three percent chance of succeeding. He was told that he would always be in prison, in a treatment program or dead.
What happened to Winn Freeman is clearly a miracle from God, available to all who are willing to undergo a "change of heart" and become a "new creature."
Today Winn Freeman heads Wisdom in Living Life Ministry, Inc., pointing other addicts to the source of permanent freedom from addiction.
"Everybody is talking about recovery, but nobody is talking about a cure," Freeman stresses. "There is real freedom for those individuals and families who are imprisoned by addiction. Anyone can experience freedom."
Of course Winn Freeman knew about God, he was a preacher's kid. He sought help from church people, but discovered they didn't know how to help a seemingly hopeless addict. He cried out to God in the back seat of the police car, because he had tried everything else, and nothing provided the permanent cure he was seeking if he was to be rescued from the trash heap of society.
"I have a lot of people ask me: 'Did the sheriff lead you to the Lord? Who was it?' There was nobody there, just me, broken. I literally cried out to God. I said 'you've got to help me. Freeman said the Lord spoke to his heart and said: "I'm going to show you I'm real, I'm going to change your life."
"Instantly I became aware of two things. God uses His Word and He uses people. That is still true today," he concluded.
Two years later, in 1990, Winn Freeman was involved in an outreach ministry for a small church. "I tell people those were the good old days: playing guitar on a flatbed trailer and telling people about Jesus."
Wisdom in Living Life Ministry actually came out of a minister's retreat when a pastor asked that we remember his church in prayer. He was having a lot of problems with drug addicts and alcoholics and he didn't know what to do," Freeman recalls. "The next thing you know, the other pastors were saying the same thing. They didn't know how to help these guys.
"I was a new Christian and didn't know anything. I sat in the corner and cried. I cried until my chest hurt. And I said, 'God, these are your leaders and they still do not know how to help somebody like I had been.' I went away depressed and discouraged."
Some time later, "Standing in the shower, I looked down at my arm. I had no marks or tracks and I wasn't drinking. I said out loud: 'God, I may not know anything else, but I know that You changed me.' Several days later the Lord gave me the desire to develop a ministry called Wisdom in Living Life. "I put a letter out to pastors: 'My name is Winn Freeman, ex-felon, ex-drug addict. I want to come to your church and share with you how to help people who need that kind of help."
Soon after that, a man told Freeman about a Bible college in Greenville South Carolina . He had always wanted to go to college, so he headed to Greenville .
"I came out here and found drug addicts on Washington St . I never could get the nerve up to walk in the door of the Greenville Rescue Mission and ask for a job, but I knew I was going to work there." "I met a guy at an instant teller machine one day and as he began to walk away, I began to talk to him. He worked at the Greenville Rescue Mission. I whipped out my mug shot and began to share with him what God had done for me. He invited me to come down and speak to the men. They couldn't get rid of me. I loved it. It was where God wanted me to be, so I stayed on as a volunteer."
"Several months later they asked me to come on part time and head up a drug program for men. I told Reid Lehman I didn't know anything else, but I did know about drugs and alcohol. The Lord used me to develop a program called the Overcomers for men. While I was there the program had a 71 percent success rate, one of the highest in the nation."
A year later men who were members of Overcomers were not only clean, they had learned how to live and give back to the community.
Winn Freeman graduated from Holmes Bible College in 1994 and became director of the Greenville Rescue Mission. In 2000 Winn resigned as director and gave full time to the ministry that was begun more than a decade earlier.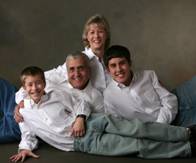 Winn Freeman and Family 2007
Wisdom in Living Life Ministry, Inc. is a faith-based, non-profit organization that reaches out to individuals and families struggling with drug and alcohol addiction. The mission of Wisdom In Living Life, Inc. is "to educate, equip, and empower God's people to effectively reach those imprisoned by drug and alcohol addiction." The ministry provides a focused approach to dealing with the prevention and elimination of drug and alcohol addiction and provides counseling to those who truly want help and need to experience freedom in Christ.
The Message of Wisdom In Living Life Ministry, Inc:
God loves you!
"For God so loved the world that he gave his only begotten Son, that whosoever believeth in him should not perish, but have everlasting life." John 3:16
God has a wonderful plan for your life.
"I am come that they might have life, and that they might have it more abundantly" (John 10:10b).
Jesus Christ as our Lord and Savior, we will be saved from our sins.
"For whosoever shall call upon the name of the Lord shall be saved" (Romans10:13).
"That if thou shalt confess with thy mouth the Lord Jesus, and shalt believe in thine heart that God hath raised him from the dead, thou shalt be saved. For with the heart man believeth unto righteousness; and with the mouth confession is made unto salvation" (Romans 10:9,10).
Wisdom in Living Life is currently raising funds for a 24/7/365 residential training facility, to be called Beyond Recovery, to expand its addiction services to the Upstate community.
Wisdom in Living Life's temporary offices are located at 12408 Old White Horse Road , Travelers Rest, SC. The mailing address for information and donations is P.O. Box 25296 , Greenville , SC , 29616 .
If you would like to help with the Wisdom In Living Life Ministry
, Inc.
Telephone (864) 271-HELP or (864) 834-9800
Email: info@wisdominlivinglife.org
Web site: www.wisdominlivinglife.org.
Adapted to fit the format of the No Tears In Heaven ministry presentation and used with permission from an article written by Bob Dill.
© 2008. No part of this page within No Tears In Heaven may be reproduced or reused in any way, electronic or print, without the expressed permission of the webmaster of No Tears In Heaven, or of the Founder of Wisdom In Living Life Ministry, Inc.– Winn Freeman