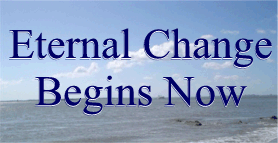 Good intentions regarding personal decisions to change or address a particular issue, start off with a wonderful delight and enthusiasm but perhaps, in a matter of a few days, the heart becomes discontented.
Detours, distractions and the demands of everyday life become roadblocks, slowing the progress for change.
Eventually the spirit might become sullen, despondent, complacent or worse yet blaming others for not being able turn the corner for a better life. And after years of attempting a new direction in life one begins to wonder - is there hope for change?

Perhaps the manner or direction of approach in achieving change might be in need of examination.

Change is possible but must begin with a spiritual change of heart -not of self but through Jesus Christ.
"I am the vine, ye are the branches: He that abideth in me, and I in him, the same bringeth forth much fruit: for without me ye can do nothing." John 15:5
In the book Changed Into His Image, authored by Jim Berg, the biblical principle of change is set forth that "Trying to grow spiritually without understanding God's plan for transforming your life is like trying to put together a jigsaw puzzle without looking at the picture on the box."

Oswald Chambers in his book Utmost For His Highest writes in the devotional entitled The Test of Self Interest "… many of us do not go on spiritually because we prefer to choose what is right instead of relying on God to choose for us. We have to learn to walk according to the standard which has its eye on God. "Walk before Me."

Three Biblical principles concerning the way of spiritual change may be found in the words of our precious Savior Jesus Christ.

Through scripture the Holy Spirit illuminates the heart concerning Eternal Light which leads to the knowledge of Eternal Love bringing an understanding of Eternal Life offered only in Jesus Christ.
Eternal Light
Then spake Jesus again unto them, saying, I am the light of the world:
he that followeth me shall not walk in darkness, but shall have the light of life.
John 8:12

Eternal Love
As the Father hath loved me, so have I loved you: continue ye in my love.
John 15:9

Eternal Life
Verily, verily, I say unto you, He that believeth on me hath everlasting life.
John 6:47
The road to Eternal Change begins now. You are invited to venture a Highway that leads to a place no earthly thoroughfare has access but every person having free entry through Jesus Christ. "I am the door: by me if any man enter in, he shall be saved, and shall go in and out, and find pasture." John 10:9
You have read this far and know in your heart earthly remedies for spiritual truth never bring a lasting inner quiet to the spirit. Remember Change is possible but must begin with a spiritual change of heart -not of self but through Jesus Christ.
Continuing the journey for Eternal Change and discovering the peace of God is as near as the next few lines of this personal invitation and your visit to the Promise of Hope.
Cliff Gribick
Founder of
No Tears In Heaven